South Brooklyn: The Place
One would rightfully ask: "Hey, you keep talkin' about South Brooklyn. I'm lookin' at this here map of Brooklyn and I'm seein' that places named Coney Island, Brighton Beach and Sheepshead Bay are in south Brooklyn. In your story, you mention a couple of streets, like President and Carroll Streets, and even some restaurant, named Mama Maria's. I looked them all up and they ain't nowheres close to Coney Island, Brighton Beach or Sheepshead Bay. What's up with that?"
Very good observation and question.
The issue was addressed in a 2017 piece in the New York Times (https://www.nytimes.com/2017/10/05/nyregion/the-meaning-of-south-brooklyn.html).
In brief, the confusion is mostly due to history and not so much geography, though geography is at play.
The original place called Brooklyn was not the City of Brooklyn that was merged into New York City in 1898. Before the Revolutionary War and until the conglomeration of towns, villages, etc., became the City of Brooklyn, Brooklyn was the Town of Brooklyn, located around where Brooklyn Heights is today. The area immediately south of it—consisting of present day Boerum Hill, Cobble Hill, Carroll Gardens, and Red Hook—was known as South Brooklyn, until realtors discouraged those gentrifying areas being referred to as such starting generally in the 1960's.
Coney Island, Brighton Beach and Sheepshead Bay are geographically "southern" Brooklyn. A true Brooklynite, such as yours truly, would refer to them as "southern Brooklyn," where the "s" is lower case. And such a person when referring to South Brooklyn, as it was back in the day or whenever, would refer to Boerum Hill, Cobble Hill, Carroll Gardens, and Red Hook as "South Brooklyn," with the "S" in upper (and deservedly regal) case or caps.
South Brooklyn: Its Mean Streets
During the years of my youth, South Brooklyn was solidly Italian working class. And this was a time when the pendulum was very slowly inching toward labor, where the working stiff's economic status was precarious at best, both in terms of wages and job security. My father worked two jobs for a while, as a clerk for a textile firm in the Garment District and as a cab driver on weekends. Even my immigrant, housewife mother did sewing for sweatshops, only she did it at home, with some assistance from us kids. The economic situation would improve once unions gained power and workers got better job security, wages and benefits, especially health insurance.
An everyday reality in my neighborhood during the years of my youth was the need to prove one's toughness and not back down to a challenge. Not that every conflict resulted in physical violence, but one had to be prepared to either fight or somehow figure out some nonviolent resolution. This kind of tension permeated those times in my neighborhood.
As I write in the About Alex piece of this website, folks associated with the Mob or Mafia were our friends, neighbors, classmates and, even, relatives. Unless one gambled and did not pay off gambling debts or borrowed from a loan shark and did not pay on time, the relationship between the mobsters and the non-mobster neighbors was hands-off. They did not bother you as long as you do not enter their realm in any way. The presence of the Mob helped make the streets safe from run-of-the-mill criminal activity, those offenses (rape, burglary and such) by criminals not associated with organized crime.
For a first-hand account of mob life in South Brooklyn, there's Frank DiMatteo's memoir: The President Street Boys: Growing Up Mafia, published in 2016 by Kensington Books. Frank is the publisher of Mob Candy magazine (www.mobcandymag.com) and has also written Mob Candy's Brooklyn Gangsters and Manhattan Gangsters, which are available through the Mob Candy website along with lots of other resources about mob life. During the summer of 2018, Kensington Books will release Carmine the Snake: Carmine Persico and his Murderous MAFIA Family, co-written by Frank DiMatteo and Michael Benson.
I was browsing in a Barnes and Noble's one day and came upon Frank's book. The Growing Up Mafia portion of the title tweaked my interest, but when I read The President Street Boys, that sealed the deal on my purchase. The block of President Street referred to is between Columbia and Van Brunt Streets. I grew up on Carroll Street, one block over from President, but between Hicks and Columbia Streets, a bit more than a block away from the headquarters of the Gallo Brothers gang, headed up by Larry, Albert "Kid Blast" and "Crazy" Joey Gallo.
By most accounts, my neighbor Joey Gallo is merely alleged to be one of the hit men who in 1957 shot and killed Albert Anastasia, while Albert was getting his hair cut at the barber shop housed in the Park Sheraton Hotel in midtown Manhattan, one of the more daring gangland hits in the history of the Mafia. In The President Street Boys: Growing Up Mafia, Frank DiMatteo says outright that Gallo was one of the hit men who gunned down Anastasio. Gallo was also suspected to be behind the hit (though not the actual hitter) on Joe Columbo (who became comatose as a result of the hit) in Columbus Circle in 1971, and Gallo himself would get shot and killed while eating at a Little Italy restaurant in 1972.
For a comical, satirical account of the Gallo's, there's Jimmy Breslin's The Gang that Couldn't Shoot Straight, written in 1969 and followed up by a 1971 movie with the same name. The movie was filmed not far from the Gallo's President Street headquarters. It was, in truth, not a great movie (and upon my second reading of the book, it did not withstand the test of a re-read). But the significance of the movie did not become apparent to me until I re-watched it some 15 years ago or so, when I would realize that its actors included the then (in 1971) unknown Robert DeNiro, Gerry Orbach and Burt Young, who was to later star as Rocky's brother in law Paulie.
Frank DiMatteo tells me that the Gallo's disliked Breslin's book and movie because it made fun of and ridiculed them, although a friendship did surprisingly develop between Joey Gallo and Gerry Orbach, who played the character said to be modeled after Joey in the movie.
Speaking of Jimmy Breslin: I ran into Breslin in 1986. I told him how much I liked his book about my neighborhood in Brooklyn. (This was before I read it the second time.) Breslin stared at me and said, "You got me confused with Pete Hamill." I replied, "No, I am talking about The Gang that Couldn't Shoot Straight." Breslin responded with a dismissive scowl. At the time, I felt (though cannot be sure) that Breslin may have considered this book to be one of his lesser efforts and was insulted that I had not commended him on one of his better works.
The Gallo's would be forced to abandon its President Street headquarters in the mid-1970's. Excavation along Columbia Street in connection with a sewer main project resulted in the destabilization of a number of properties. The City ordered that those unsafe structures be vacated and they would eventually be demolished and condemned. Almost the whole of President Street between Columbia Street and Van Brunt would come down, along with a number of properties on Columbia Street and adjoining blocks. The whole incident was marked by a Village Voice piece in 1977 or so with the unforgettable title of "No One Gets Indicted for Killing a Neighborhood," as many felt that this would be the death knell for that (my old) neighborhood. (In 1965 my family moved from Carroll Street to Windsor Terrace five subway stops away; our 3.5 room railroad flat could no longer adequately accommodate my family which by then numbered 6, my parents, me, my two sisters and my kid brother.)
According to Frank DiMatteo, the destabilization of those properties' foundations was an intentional act of the City's to get the Gallo's off President Street. Frank said the City finally succeeded after its previous attempts had failed.
Mama Maria's Restaurant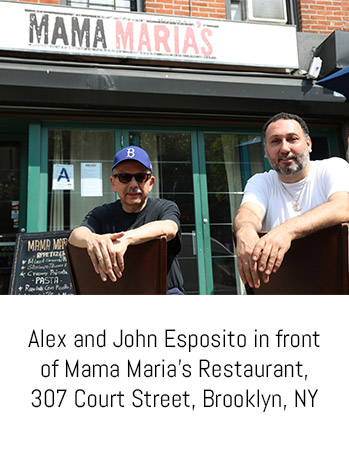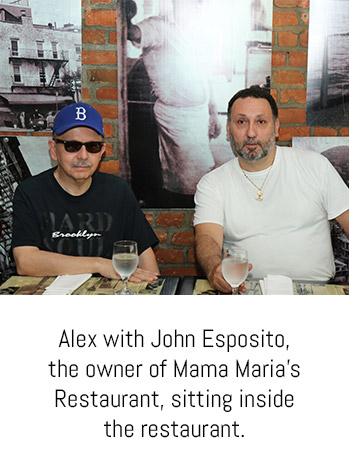 The restaurant Al and Mick chose as the venue to celebrate the great justice achieved for Mary and Roger in Chapter 27 of Occupational Hazard is Mama Maria's Restaurant. The real-life Mama Maria's Restaurant is my favorite restaurant. Mama Maria's is located at 307 Court Street (near Degraw Street) in Carroll Gardens, Brooklyn. The food is delicious homestyle southern Italian cooking and the place has a fabulous spirit and the service could not be friendlier and more inviting. Mama Maria's is next to and connected with Sal's Pizzeria. Sal Esposito opened Sal's in 1957, and Sal's son John opened Mama Maria's during the 1990's, and John now runs both side-by-side operations.
In The President Street Boys: Growing Up Mafia, Frank DiMatteo mentions Sal's and Mama Maria's, and that he drops by regularly to chat with John. When I informed John of this, he told me a story about Frank DiMatteo's father, Ricky DiMatteo, who, while never a "made man," was just a notch below of being one.
The story goes like this: One day two young wise guys are in Sal's Pizzeria cornering John's dad, trying to shake Sal down for protection money. Ricky, a family friend, happened to be in the back and noticed what was going on and intervened.
Click here to read what I imagined transpired.
D'Amico's Coffee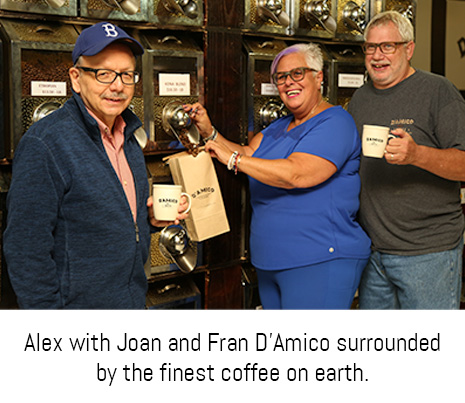 In Where's … Eli?, Mick Forte's eccentric cousin Eli Ativa conducts his limited law practice from a coffee shop that I call D'Amato's Café.  That place is modeled on D'Amico's Coffee which has been doing business at 309 Court Street, in the heart of Carroll Gardens, Brooklyn, since 1948. D'Amico's is now run by Fran and Joan D'Amico. It was founded by Fran's grandfather who was succeeded by his son Frank, Fran's dad. Hence, the characters of Jennie, Frank Junior and Frank Senior in Where's … Eli?  Like many of the characters in my books who are inspired by real folks, the words and actions of the models are based solely on my imagination.
Among the reasons for my using D'Amico's as the model for D'Amato's Cafe is because D'Amico's is a neighborhood institution where vintage characters of South Brooklyn still congregate. In fact, after he retired in the early 90's, my dad, who went to high school with Frank D'Amico, would hang out at D'Amico's with his buddies from the neighborhood, and bug Joanie on a daily basis, with her only respite being when he went across the street to OTB (when it was still open) to make his bets and then to collect his winnings.
D'Amico's and Joanie earned a mention in a May 2019 New York Times article about Elizabeth Gilbert, of Eat Pray Love memoir (and movie starring Julie Roberts) fame.  Gilbert chose to be interviewed for the Times piece at D'Amico's, as she had spent time there doing research about Carroll Gardens and during that time had bonded with Joanie, whom the reporter noted Gilbert "greeted like an old friend." This conveys the sort of place D'Amico's is, a place where folks feel welcomed.
I appreciate Joanie's and Fran's support and encouragement and their permitting me to do a book event at their place. For info about this highly regarded establishment go to www.damico1948.com
Credit for the Mama Maria's and D'Amico's photos go to Ron Jordan Natoli and Steve Warham of Ron Jordan Natoli Studio, 352 Court Street, Brooklyn, NY 11231.