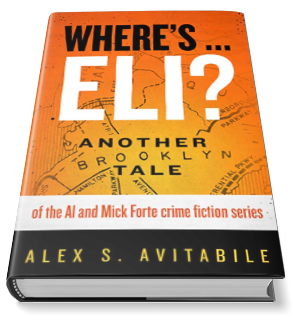 What readers are saying about Where's…Eli?
"Fans of the George V. Higgins school of crime writing should jump at Alex S. Avitabile's new Al and Mick Forte book, Where's . . . Eli?  Avitabile knows Brooklyn, and he has a gift for distinctive voices. I couldn't get enough of this book." —William Boyle, acclaimed author of his own tales of Brooklyn: Gravesend, The Lonely Witness, A Friend is a Gift You Give Yourself and City of Margins.

"The author's life growing up in South Brooklyn lends a natural cadence to his writing and patterns of speech – the dialogue between characters is pitch-perfect and makes the reading experience immersive, intimate, and hilarious. The rich cast of characters that parades through these pages is inimitable, but perhaps easily recognized by anyone who's ever called New York home. The colorful Italian profanity, the casual references to cultural landmarks, and the seamless exposition of the energized city makes the neighborhood a character in itself. Where's … Eli? is a heartfelt homage to Brooklyn that is clever, irreverent, honest, and downright entertaining."
— Self-Publishing Review
---
A simple but engrossing mystery with a New York accent.
"A Brooklyn attorney is determined to recover his losses after someone clears out all of his bank accounts in Avitabile's crime novel.Al Forte rightly suspects something is amiss when a $40 check he's written bounces. But he's unprepared for the news that his bank accounts, both personal and his law office's, are completely empty. His federally chartered bank isn't very sympathetic, as there have been instances of lawyers hiding their own funds and claiming identity theft to recoup allegedly stolen capital from the banks. But his bank's suspicion primarily stems from Al's association with his paternal cousin, Mick, a (mostly) legit businessman from a mob-affiliated family. However, Mick's maternal cousin, Eli Ativa, who's also an attorney, is likely the unwitting culprit. He recently borrowed Al's laptop, which someone seems to have hacked. As Eli is frustratingly absent and hard to track down, Al searches for clues at the cafe where Eli often works. He eventually learns that a dubious individual with a particular device was indeed in the vicinity of Al's laptop. Unfortunately, the bank has notified the New York Lawyers' Fund for Client Protection, which looks into misconduct by attorneys. Now Al and Mick must prove to its grievance committee that someone stole Al's information when some people still believe he's a swindler. The second book in the series that began with Occupational Hazard (2018), this installment is a quietly engaging mystery that consists largely of scenes driven by dialogue, as characters discuss who's behind the theft and how. But there's abundant tension, as Al faces threats such as imprisonment or disbarment, or both, while Eli's apparent disappearance is unsettling. The author refers often to the first Al and Mick novel, and one of its characters is a potential suspect in this story's crime. Readers new to the series will easily follow along, though there are spoilers aplenty. Although Al and Mick are a fascinating pair of polar opposites, Mick's incessant castigation of his cousin for not heeding warnings of Eli's untrustworthiness quickly wears thin. Fortunately, Mick's lawyer, Richie Abbatello, who both helps and encourages Al, is a nice counterbalance."
—Kirkus Reviews
Finally published!!
First and foremost, a large thank you to Reedsy Discovery and Alex S. Avitabile for providing me with a copy of this publication, which allows me to provide you with an unbiased review.
"Having devoured the debut in the Al and Mick Forte series, I could not wait to see what else Alex S. Avitabile had in store for readers in this follow-up piece. Full of drama and some not so legal language, Avitabile entertains the reader throughout. Al Forte has a great relationship with his cousin, Mick, to the point that he is willing to help in most situations. When Eli Ativa arrives at Forte's office, Al is willing to loan out his laptop to a fellow lawyer, though only after a little negotiating. Eli, cousin to Mick on their mothers' side, has never posed any issues to Al before and the laptop arrives back later that day without an issue. When Al receives some calls from his bank the following day, he is baffled to learn that his accounts have been emptied, including client escrow accounts for his real estate transactions. Al is beside himself, particularly when he discovers the account draining occurred while he was fast asleep, his laptop off and in the next room. Eli is also MIA, leaving Al to wonder if there is some degree of guilt to be laid at the feet of Mr. Ativa. When the bank refuses to back Al's version of events and the New York Bar sends notice of an upcoming hearing, Al engages the services of his cousin to help find Eli and get some answers. The timeline of Eli's period with the laptop is sketchy, but a waitress at the local coffee shop might be able to shed some light on everything. Eli remains on the lam, only helping to further insinuate that he is guilty of something. When the day comes for Al Forte to face the charges of mismanagement of the escrow accounts, the hearing takes an interesting twist, revealing a truth that no one could have seen coming. Another good legal thriller by Alex Avitabile, which reads with ease and it lighter fare than I am used to tackling. Recommended to those who have an interest in novels that can be devoured in short order, as well as the reader who enjoys a unique legal thriller.
I was pleased yet again with the second novel in this series, allowing me to acclimate to Alex S. Avitabile's writing style and a handful of his characters. Al Forte returns and is apparently happy to be working in real estate—after a harrowing experience in the debut—wanting no trouble or waves in his practice. When he becomes the victim of financial ruin, he turns to the only man that might be able to help, less to solve things violently and more to get some answers. Avitabile uses the story to show the gritty and determined side of Al Forte, especially when his back is up against a wall. Refusing to accept defeat, Al does whatever he can to clear his name, sure that he will be disbarred otherwise. Other characters emerge throughout this piece, some returning characters and others new to the scene, all of whom keep the narrative moving effectively. The entertainment factor is increased with many of these characters, some of whom provide the stereotypical mobster mentality. While Avitabile seeks not to create a hard-core legal thriller, he entertains and keeps things serious enough to show how the law works when the cogs run effectively. Avitabile conveys his point through a mix of chapter lengths and legal angles, which keeps the reader wanting to read a little more. I was able to read this in a single day—and I did the debut—and am eager to read more, should Alex S. Avitabile have additional ideas he wishes to publish down the road. I hope others will take the time to look into these books when they need something shorter that does not dilute the legal issues at hand.
Kudos, Mr. Avitabile, for this great series. I am quite intrigued and want to know more about both the Forte men in the coming months."
—By Matt, a Reedsy Discovery reviewer
Identity Theft in the Old Neighborhood
"While Brooklynite reviewers have claimed this book as a celebration of their turf, as a Bronx native I can tell you that it is a celebration of any neighborhood where immigrants from Southern Italy settled. I enjoyed this book because it felt like a happy reunion with guys that had been my father's friends, guys I grew up with and guys that are scattered everywhere by the diaspora of upward mobility. The tale of descent into ruin by identity theft and the ultimate triumph of justice is compelling and suspenseful, but the real gold is in the characters and how they relate to each other and to their world."
— Christina Nakraseive (4.0 out of 5 stars Amazon Review)

Not your obvious mystery!
"Great, fun, engaging mystery with very Brooklyn characters-felt like I was part of the neighborhood. Looking forward to Book #3 in the Mick and Al Forte series."
— ABR (5.0 out of 5 stars Amazon Review)

---
I wish I had a guy like Mick on my side!
"Having enjoyed the first book, I wish I had a guy like Mick on my side! 🙂 This book was a bit short, I think a couple of parts, especially what was going on with Eli, could have been expanded some (more action to go with the dialogue) but I enjoyed the story nonetheless. Things worked out nicely in the end, and having enjoyed the two Mick and Al books this author has written, I would definitely be up to reading the next book in the series and seeing what other hi-jinks these two guys can get themselves up to."
—M.M. Strawberry (4.25/5 stars Goodreads Review)
---
There was no blood in this crime story.
"What a delightful easy read. I love reading about the "characters" of Brooklyn and Alex Avitabile captures then to the fullest! He writes dialogue extremely well, and you can hear every "ain't could". Also, the author either knew, or learned, a lot about computers to tell this story. Very impressive. It was fun to read as was Occupational Hazard (Mr. Avitabile's first book with Al and Mick Forte). I hope he continues to write about crime stories like these two." —Nancy Cogen (Amazon 5.0 out of 5 stars)
---
"Another fun book from Alex Avitabile. If you grew up in Brooklyn, you will love the memories of your old neighborhood, even if it wasn't Carroll Gardens. If you didn't, you will enjoy the story of a place where people look out for one another and help all they can. And now that we know that even Jeff Bezos can get hacked, you will learn some lessons about keeping your financial data safe!"
—Michael Zdyrko (5/5 stars Goodreads Review)
---
Brooklyn really is the world!!
"Rarely do I find a book I cannot put down. "Occupational Hazard" by Alex S. Avitabile was certainly the latest. I live in Brooklyn and enjoy reading about my Borough and its history. This book was not about the borough's history but was about life in the borough and it captured its essence and the real characters that live in Brooklyn. The book was exciting, real and warm. I bought it for all my family and friends.

When I heard Alex had written "Where's Eli?", a sequel to "Occupational Hazard," I waited with bated breath and bought it as soon as it was available. Again I could not put it down. It depicted scenes that any reader would be familiar with. I'm sure there is a Bond Street and Atlantic Avenue in many cities with the same congestion and parking problems. And the characters – true Brooklyn – real, believable, down to earth. The way Al's dilemma was presented remained unsolved until you read it at the end. Stuff happens and friends and family come together and get to the bottom of the crime. How great it would be to have a cousin like Mick. Again, I purchased many copies to give family and friends. I loved the book.

I'm hoping Mr. Avitabile will be contacted by Hollywood to make the books into movies."
—Jo Haggerty (5.0 out of 5 stars Amazon review)
---
A  joy to read
"Mr. Avitable's second book was also a joy to read. We meet some new characters, and they are characters, who populate the pages and the streets, coffee shops, and courts of Brooklyn.  It is another gripping story which captures (in more ways than one) the reader's attention as we try to figure out the disappearance of both Eli and a lot of money."
—Peter Carter
---
A great book to read if you love Brooklyn
"This is a great book to read wherever you are from but if you know Brooklyn, NY and the particular ways of this place, Alex Avitabile's 'Where's Eli' will bring you pure delight. The quality of his writing is superb. One of the aspects that makes this story so engaging and enjoyable to follow is the wonderful descriptive details that are totally specific to Brooklyn. The language is also so accurate and precise that even though I live 3,000 miles away, I left like I was right in Carrol Gardens or on Court Street when reading chapters. The style and energy that runs through the development of each of the core characters is infectious. It is really fun and motivating to read Alex's new book and laugh out loud at all the antics of the Al and Mick Forte crime fighting team. The only way it is possible to make a reader enjoy a book this much is if the writer had just as much fun writing it. This is definitely true with 'Where's Eli' as the story arc and momentum of the series suggests there is plenty more daring crime fiction to come from the best borough in the world… Bklyn!"
—by ld372 (Amazon 5.0 out of 5 stars)
---
Fun adventures and signature wit
"A truly engaging story and fun adventure from Avitabile. I enjoyed returning to my favorite characters- Al and Mick- in this 2nd book in the series. This is a quick and enjoyable read to which Avitabile brings his signature wit and dialogue-driven style."
—by Amazon Customer (Amazon 5.0 out of 5 stars)
---
Crime never pays – especially in Brooklyn
"Like the first book, this was a perfect read for a weekend away (I couldn't put it down). I thoroughly enjoyed reading the latest escapades of Mick, Al and Eli too. Although I'm not from Brooklyn, Alex makes it so alive in his pages that I find myself wishing I were. These books are a must for anyone looking to escape for a few hours to do a little crime/problem solving. Looking forward to their next adventures!!!" —By EPC (5 of 5 Stars Amazon Review)
---
Mick and Eli are better, the second time around…
"Back in the days "when Brooklyn was the world," the Abe Stark clothier sign in Ebbets Field read: "HIT THIS SIGN. WIN A SUIT." Alex S. Avitabile hit it out of the park again with WHERE'S ELI?
It's said that James Joyce memorialized Dublin with ULYSSES, and if the city were wiped from the face of the earth it could–By be recreated from the ground up by a Joceyean literary pub crawl.
In WHERE'S ELI?, second-time novelist Avitabile brings to life South Brooklyn neighborhoods (Boerum Hill and Carroll Gardens), with a resonance of MOTHERLESS BROOKLYN, GODFATHER II and LAW AND ORDER.
South Brooklyn aficionados will recognize Mamma Maria's trattoria and the famous D'Amico's Café (thinly veiled in sixteen references), along with such neighborhood fixtures as "John the pizza-man" and Joanie (whose family has been a fixture in the Carroll Gardens neighborhood since 1948 and anchor the Carroll Gardens Civic Association).
In light of Avitabile's longtime involvement in poverty law and affordable housing, his reference to Bedford Stuyvesant strike me as enlightening.
I intuited an echo of the author in the description of Eli B. Ativa himself: "…he's always wearin' that ratty looking Brooklyn Dodger hat, worn jeans and sneakers in winter; T-shirt, shorts and sandals with no socks in summer. That describes my ______ cousin, Eli B. Ativa, in a nutshell" (p. 120).
As a native son of Brooklyn, the borough of "Amalgamated New York" that lays claim to 1/7 of American citizens, I found Avitabile's latest effort to be delightful.
I hope he follows up with a proposed treatment of Bill Withers.
The man can write…"
—by Long Island Giraldo (5 of 5 Stars Amazon Review)
---
 A Rollicking Read
"Fast paced, intriguing characters and rich, colorful dialogue; NSFW language. The read is funny & highly interactive: I find myself in chorus with Mick, chiding Al to get a move on finding Eli while I look up & groove to the historical R&B reverie enriching the narrative."
— by rylwats  (5 of 5 Stars Amazon Review)
---
Another gem!
"Another gem from Alex Avitabile! This is dialogue-driven crime fiction at its salty best. It is a lovely part 2 in the Mick and Al series but stands solidly on its own. This was lots of fun to read." — Gb (5 of 5 Stars Amazon Review)
---
The Saga Continues….
"This is a great read, a worthy follow up to Occupational Hazard and a real page turner. Readers might benefit from first reading Occupational Hazard, the first in the Al and Mick Forte series, but it is not absolutely necessary – the author does a fine job in introducing Where's…Eli readers to pertinent characters we already met in the first installment." —by Joseph S. Dirr (Amazon 5.0 out of 5 stars)
---
A complicated plot with lots of tricky financial situations
"I really enjoyed Where's … Eli?  It has a complicated plot with lots of tricky financial situations, but Alex tied all the subplots together with skill and made the book an easy and enjoyable read. It's been quite a while since I read works by Damon Runyan, but I feel Alex captured his success in depicting characters whose speech and dialogue perfectly matched where the characters came from–in this case Brooklyn. It is a good story, and I'm glad Eli was found alive and well at the end!" —E.M. Beston, Florida