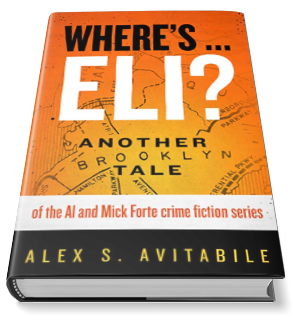 "Where's … Eli? is a heartfelt homage to Brooklyn that is clever, irreverent, honest, and downright entertaining." —Self-Publishing Review
In this tale of Brooklyn, all of attorney Al Forte's accounts at Charter Bank, including his attorney escrow accounts, are mysteriously emptied.
The on-line transfers of almost $2 million were done on Al's computer, leading the bank and the authorities to suspect Al of pulling a self-perpetuated identity theft.
Al says he was asleep with his computer in his possession and turned off when the transfers occurred.
He and his cousin Mick Forte believe that something happened to Al's computer while it was lent to Mick's other attorney cousin, Eli Ativa.
The problem is: Eli has suddenly disappeared.
Al's law license and very liberty are at risk unless Al can get to the bottom of this mess.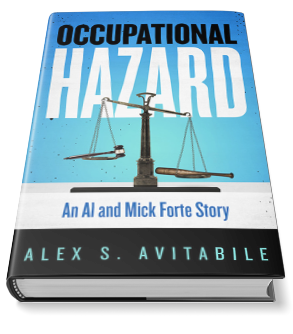 "Occupational Hazard is full of wit, suspense, dirty tricks and smart plot twists making it a great read!" —Bianca V, Seattle
Revisit the "mean streets" of Jonathan Lethem's MOTHERLESS BROOKLYN with this tale about two cousins, who grew up on those very same South Brooklyn streets and who are up against a powerful and unscrupulous bully. One is Al Forte, a highly competent and fair-minded attorney. The other is Mick Forte, a "semi-reformed" Mafioso. Cousin Al is not so sure about the extent of cousin Mick's reformation.
The bully is Gordon Gilbert, the brilliant, former head of the powerhouse law firm he built, who is now a Deputy Mayor and remains as power-hungry and ruthless as ever.
Al is retained by a desperate Mary Woodley to sue Gilbert whom she says impregnated her and fathered a child he refuses to acknowledge and support.
Despite having little litigation and no family law experience, Al readies himself to sue Gilbert for child support. Mick warns Al that the real battle will be not in the courtroom, but on the streets, Mick's domain, as Gilbert and his goons will surely resort to "dirty tricks" to thwart Al's efforts.
Al initially rejects Mick's offer to help, fearing such a loose cannon will undermine his legal battle against Gilbert. Al reconsiders after he finds himself in jail, where he awakens to the nature of the adversary he is up against.
Will Al, even assisted by Mick and his considerable street smarts, be a match for devious Gilbert and his superior resources? Will justice for Mary be achieved in the courtroom or on the streets—if at all?