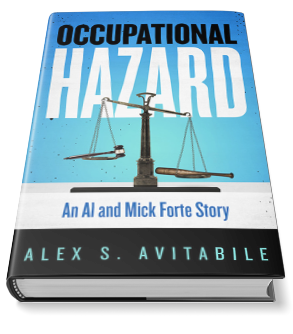 What readers are saying about Occupational Hazard
"Occupational Hazard is a must read. Alex has a great imagination. But if you really want to know what the mean streets of South Brooklyn were like back in the day, then read my book."
—Frank DiMatteo (mobcandymag.com), author of The President Street Boys: Growing Up Mafia (2016, Kensington Books) and co-author of CARMINE the Snake: Carmine Persico and His Murderous Mafia Family (2018, Citadel Press Books) and of LORD HIGH EXECUTIONER: The Legendary Mafia Boss ALBERT ANASTASIA (Citadel Press Books, 2020).
---
Nicely crafted and original
"A very nicely crafted and original novel by an author with a genuine flair for narrative storytelling and the creation of memorable characters. Occupational Hazard is a fully entertaining read from cover to cover." —Midwest Book Review
---
In Avitabile's debut legal tale, a Brooklyn lawyer takes on a paternity case that pits him against powerful attorneys who fight dirty.
When Mary Woodley needs help collecting child support, she turns to a former co-worker, Al Forte. He's a real estate lawyer, not a litigator, but he likes Mary and can't find someone else to represent her, so he takes her case. Some time back, after drinking with her then boss, attorney Gordon Gilbert, Mary woke up in bed with Gilbert and later learned she was pregnant. She bore a son, Roger, but hasn't been able to reach Gilbert and wants financial support. Unfortunately, Gilbert and his lawyer, John Stillman, immediately attack the paternity suit, claiming Al is out for revenge. Gilbert, who's a deputy mayor, was head of the now-dissolved law firm Gilbert & Associates, where Al worked before Gilbert fired him for his "liberal ways." Al's street-smart cousin, Mick, who has spent time in prison, offers his assistance. Al declines the help and subsequently lands in jail on a bogus charge of violating a judge's order. It seems Gilbert and Stillman are not above unethical means to win cases. Mick, however, has his cousin's back and employs his numerous connections, hoping to ensure that Al and Mary are the victors. Avitabile's short, brisk novel aptly shows how a seemingly simple lawsuit can turn into a dogged legal battle. Gilbert, for example, fights Mary's requested paternity test, while Stillman threatens her with a defamation suit despite her not going public with the allegations. The story makes good use of a duality between the cousins, who grew up together but took separate paths. Still, too many characters extol Mick's capability and beneficial alliances; even Al's wife, Theresa, berates her incarcerated husband for not accepting Mick's help and is hardly concerned that he's in jail. But Al and Mick are a savvy, delightful duo alongside stellar supporting characters such as Richie Abbatello, Mick's criminal defense attorney, and Francesca, another cousin and the receptionist at Al's office.
A winsome familial team reinforces this story of judicial proceedings.
—Kirkus Reviews
---
Reedsy Discovery Review
First and foremost, a large thank you to Reedsy Discovery and Alex S. Avitabile for providing me with a copy of this publication, which allows me to provide you with an unbiased review.
With two of Alex Avitabile's books to read, I thought I would jump into this series head-on and hope for the best. Al Forte is a hard-working lawyer, but has a bad feeling about his firm's annual culling process. When he sits down with senior partner, Gordon Gilbert, his worst fears are realised. Forte is told that his services are no longer needed and given two weeks to tie-up all his work. When he is sent on his way, Forte receives a call from another former colleague with a legal concern. Mary Woodley was once a receptionist at the firm and found herself in a compromising position with Gordon Gilbert. While she admits that she was a willing participant in their sexual encounter, she was dismissed soon after it was discovered that she was pregnant. Seeking child support and an acknowledgement of Gilbert's paternity, Woodley asks Forte to help. Having spent his entire legal career in real estate law, Forte is not well-versed in what to do, but will do his best and ask around. When no one else can help run the case, Forte takes the lead, turning to his cousin, Mick, to help with some of the darker sides of the law. With Al pushing for a paternity test and a reasonable child support payment, Gilbert does all he can to stonewall, using the high-priced attorneys one would expect a man of his caliber to have on retainer. Al and Mick do their best to prepare Mary for the hearing, but some sleight of hand lands Al in jail for breaching the confidentiality of the issue at hand. Working to ensure Gordon Gilbert does not get the upper hand again, Al and Mick Forte will do anything they can, even if it means bending the rules. A decent legal thriller, lighter than what I am used to reading, it is surely a great way to spend an afternoon of reading. Recommended to those who like quick novels that can be devoured in short order, as well as the reader who enjoys a legal thriller with a twist.
I was pleased with this series debut, which allowed me to learn a little more about Alex S. Avitabile and his handful of interesting characters. Al Forte is a character whose interest in the law is second only to wanting to save face. After his dismissal, Forte seeks to right the wrongs that have befallen him and the client who falls into his lap. Cunning and willing to work outside the box, Al Forte calls on his cousin, Mick, to help in some of the grey areas of the law. Their partnership is sure to work well throughout the series, as Avitabile weaves a great connection between these two. Other characters emerge throughout this piece that keeps the narrative moving effectively while entertaining the reader. These characters, some of whom I hope to see again, provide different angles to a story that is light, while being serious in some regards. While Avitabile is not seeking to create a hard-core legal thriller, he does well with this piece, pushing a serious issue while also adding momentum with each chapter. Avitabile is able to convey his point quickly and uses short chapters to keep the reader wanting to read a little more. I was able to read this in a single day and am eager to read the second book in the series, as the writer is way to digest and the characters somewhat relatable.
Kudos, Mr. Avitabile, for this great series debut. I will move to the next book in the series to see if things are just as good.
—by Matt, a Reedsy Discovery reviewer
---
Very engaging and enjoyable read!
"This wonderful debut novel by Alex Avitabile grabs this reader with great characters -Nick and Al Forte, engaging plot and evocative memories of growing up in South Brooklyn.
He effectively captures the spirit and soul of the neighborhood and the colorful and wonderful people who lived there. As one reader suggested, this would make a great movie. Looking forward to reading the whole series. Highly recommend!"
—by MAG (5.0 out of 5 stars Amazon Review)
---
Excellent
"Could barely put it down; finished in two sittings. Great storyline and
characters. Good job, Alex"
— by Mike H. (5.0 out of 5 stars Amazon Review)
---
This was a great read, with enough intrigue to keep you on your toes!
"I really enjoyed getting a view from the inside of a motherless Brooklyn. The author keep me engaged throughout, with plenty of surprises to keep you guessing until the end. Mick is quite the character. I have to catch up with the author to brush up on the Brooklyn Italian language." —by Amazon Customer (5.0 out of 5 stars Amazon Review)
---
Non-stop intrigue!
"I felt like I was in the room where it happened. Alex A. truly delivers in this powerful yet entertaining legal battle, while the family dynamics keep you wondering whether Al's business acumen or Mick's street savvy will help or hurt the case. It's a page-turner to the end!" —by CC Channell (5.0 out of 5 stars Amazon Review)
---
Page-Turner
"A well written book, I was quickly immersed in the storyline. The pages transported me to another place. I highly recommend this book. I look forward to more of Al and Mick's adventures!" —by Amazon Customer (5.0 out of 5 stars Amazon Review)
---
Ah, Brooklyn…Ah, Italians in Brooklyn….what a great read!
A truly entertaining read that evokes the old neighborhood and the characters you may know, especially if you're an Italian from Brooklyn. What fun! Call Central Casting, I think Al and Mick Forte are ready for their closeups.
—by Renee Miscione (Amazon 5.0 out of 5 stars)
---
New well written saga crime / legal drama that feels like it could easily be made into a film
First off, there is something super intriguing about Brooklyn back in the day (tough guys, underworld, struggling, mostly Italian and Irish families that brought much older world sensibilities to the new world) and Avitabile weaves fiction and non fiction beautifully here seamlessly to give the audience a glimpse into the realness that once was while bringing forth imaginary characters that draw you in. The Forte cousins are so well developed that you feel like you know them somehow. I can definitely see them and others as a continuing cast of characters in a series. The writing is well paced and peppered with fast paced, punchy lines, almost like a screenplay. I like that the story combines a rough around the edges sentiment with a more polished, refined personality (Forte cousins grew up near by each other but their lifestyles seem at odds) because it speaks to the 'devil you know' brand of worldview that brings an interesting tension to the plot. Amidst this framework is Mary, the brave heroine who will go the distance, despite all cultural and personal ramifications her case would have then (and let's face it, now) to bring a powerful man to justice, no matter what approach. If you like legal / crime stories with the makes of a continuing saga, this is your book!
—by Alana (5 of 5 Stars Amazon Review)
---
This is Brooklyn!
"Great book. Part John Grisham, part Sopranos, takes place in the Brooklyn neighborhood where I grew up so I knew all of these characters. Now on to Where's Eli?"—by H. Zdyrko (5 of 5 Stars Amazon Review)
---
An enjoyable read
"I thoroughly enjoyed this book. Coming from the same area of "South Bklyn," I felt as if I knew the characters. I look forward to reading more about the adventures of Al and Mick." —by Joan Damico, Brooklyn (5 of 5 Stars Amazon Review)
---
WHAT FUN!
"So, in truth, we return to my original message: I do not care how good an attorney you are, you need backup. And Mick has the contacts and resources, and the backbone, that'll serve you well."
Al Forte just got fired from the high level law firm he's been working at. His "exit interview" was a nightmare, but saying goodbye to the managing partner was the easiest thing he's ever done. Al stood for everything Gordon Gilbert hated, and his overblown reactions never helped anyone up to the point where because of him, the law firm was dissolved.
Al can't get another legal firm to even look at his outstanding resume because of Gilbert's connections. So, he opens his own firm backed by his family: cousin Mick, who knows everybody and is owed so many things by so many people…..
When Al's former law firm's night receptionist Mary, comes to him with an unbelievable story of sexual harassment from Gordon Gilbert that resulted in her son Roger as well as the end of her marriage, Al tries to help. But he's no litigator (his specialty is real estate law) and his first time at bat results are not helping. Now what can he do but ask for Mick's help.
This is the first in a planned series of good ol'boys from Carroll Park Brooklyn. S a born and bred Rhode Islander with ties by marriage to "family", I get the premise of the book. I get all the "inside jokes" and head slaps, the sneakiness, the backrooms as well as the corruption that no one will publicly admit to. However, as wonderful as this book was- and it's laugh out loud funny in spots- the grammar errors might just drive me nuts. Some of it is the setting, but a good deal of it is poor editing on the publishers' part and that just can't be explained away and detracts from an overall fun read. I want to read more from this author, and do recommend this book." —by Andrea L. Stoeckel (4 of 5 Stars Amazon Review)

---
A terrific summer beach read!
"Great characters and a snappy plot combine to make this the perfect pick for your beach bag, or to curl up on the couch with after a long day. You'll be cheering for the endearing Forte brothers from start to finish, and anyone who is familiar with New York (and in particular Brooklyn!) will enjoy all the local references and color that the author imbibes the story with. Great debut novel!"
—by Sally Smith, San Francisco (5 of 5 Stars Amazon Review)
---
The John Grisham of Brooklyn!
"I really enjoyed Occupational Hazard. I read it in a day or two. Very captivating. Excited for future books by this author!"
—by Ted DeB, Esq., Albany (5 of 5 Stars Amazon Review)
---
Looking forward to the next book
I read this book over 3 days and really enjoyed it. It has a great plot and character development. I look forward to Alex's next book. —Kerry G, Esq., NYC
---
Great Fun
Occupational Hazard was great fun! It had very vivid characters and great plot twists, as well as  colorful language. — Marcia, NYC
---
Engaging Story
What an engaging story!  Unlike some books where you must slog through many chapters before feeling captivated by the story (if ever), this one immediately pulls you in.  Alex's writing is so descriptive, I felt transported to the scenes of the story, particularly as a New Yorker who recognized many of the locales.  I must say that I am very happy that Peg's character was somewhat redeemed by the end of the tale!  I look forward to the next book. — Margaret O'B, Westchester
---
Reminiscent of John Grisham
Occupational Hazard is a fun page-turner, reminiscent of John Grisham novels. It is humorous, suspenseful and it has a surprise ending. There's some legal language but not too much and the characters are a little pat: all capable, all good or all bad. But it's a novel.
— Ralph M., Baltimore
---
Book smart & street smart!
I kept this book to read over the Christmas holiday because I wanted to read it from cover to cover without breaks and it did not disappoint. There is a kind of Brooklyn cadence and vernacular unique to this writer that is refreshing in its directness. Whether you are interested in legal drama or simply looking to fall into an intriguing story, the pace of this novel is infectious and draws you into a particular world crafted with vivid characters and bold plot twists. If ever there was a time when we needed to be reminded of the value of working together to solve everyday problems it is now and Occupational Hazard poses a humble but time-tested fictional account of how intractable disputes can lead to surprising outcomes and forge unbreakable alliances. I look forward to reading the next Al and Mick Forte story…
– by ID372 (4 of 5 Stars Amazon Review)
---
Easy read
I don't read a lot of this genre but I thoroughly enjoyed reading about the Forte brothers. The combination of thoughtful intelligence and tough-exterior street-smarts made for a funny and endearing story that I couldn't put down. Love it when everyone gets what they deserve in the end. Can't wait for the next tale of Forte justice.
– by Joy Garvin (5 of 5 Stars Amazon Review)
---
Good vs. Evil in 1950s Brooklyn…and today

If you were born in Brooklyn, have visited Brooklyn, or love Brooklyn, this book is a thoroughly enjoyable read. From the unique version of English spoken by natives to a refresher course in Italian curse words, word lovers everywhere will delight in this story.
Alex Avitabile has created compelling characters that will hook your heart and your mind. From the single mother, drugged and impregnated by the boss from hell, to the humble attorney whose brother, Mick, is a street thug with a heart of gold, this story is a roller-coaster portrait of good vs. evil in the criminal justice system.
This first book in the "Al and Mick Forte" series will leave you sorry to have reached the last page and eagerly awaiting the next volume. I highly recommend it.
—by Michele Defilippo (5 of 5 Stars Amazon Review)
---
A THOROUGHLY ENJOYABLE BOOK
I loved the characters, the authentic dialogue, the suspenseful plot. It had a great story line and was a fun read.
—By Maureen Kurth (5 of 5 Stars Amazon Review)
---
Al, an attorney in Brooklyn, and his ex-mafioso cousin Mick cross swords with deputy mayor Gordon Gilbert when they represent Mary Woodley, who is suing Gilbert for child support. This is a fairly light-hearted mystery which pits two relatively unknowns against a powerful lawyer, now deputy mayor, in a domestic issue lawsuit.
How Al and Mick outwit Gilbert is the story in this easy-to-read and delightful mystery.
—Harvee (Review posted on Book Dilettante blogsite)
---
This is a fun read from a first-time author. The 'odd-couple' here might seem cliché, but the author does a great job of playing Mick and Al Forte off one another. This story is a touch short, but it's a good effort for a first book in what is intended to be a series.
I read the bio/other materials in this book and learned the author is a lawyer. Pretty cool. I would definitely be interested in reading more about these characters as the author writes more stories about them and fleshes them out.
– M.M. Strawberry (4.5 of 5 Stars Goodreads Review)
---
4 of 5 Stars Amazon Review: MEMORABLE CHARACTERS, FAST MOVING PLOT, REAL LIFE DRAMA
Alex brings to the pages all the elements of a good story, memorable characters, a fast-moving plot. Action, suspense, resolution keep the reader reading on into the night.
The realism of the behind the scenes corruption of within the Justice System is bold, eye-opening, and scandalous, and frightening. Alex's descriptions of locale, history of the period and social mindset of the day are accurate and convincingly presented.
"Occupational Hazard" is destined to make a fantastic impact, into the reality of injustice, and bias so prevalent in America today. —By Richard R. Blake
---
5 of 5 Stars Amazon Review: A FUN READ
Enjoyed learning about the South Brooklyn culture that shines loud and clear in this book. Character relationships are well developed quickly and with depth. An easy, page turning read. Hope there is more stories about Al and Mick Forte. —by ABR
---
5 of 5 Stars Amazon Review: AN ENTERTAINING FIRST NOVEL TO ADD TO MY SHELF OF BROOKLYN VOICES
It's been suggested that one out of seven Americans has roots in Brooklyn, one of the five boroughs of New York City.
As a native of "the Borough of Churches" who was born there in the second half of the twentieth century, I found Alex Avitabile's first novel to be an engaging entertainment.
In fact, I read it through in one sitting and it held my attention throughout.
Alex suggests that we shall hear more of the central characters, Al and Nick Forte, in the future.
Since most first novels are thinly-veiled biography, many elements of the author's childhood and teen years appear to pervade the text.
I enjoyed the author's photo at the end of the text, especially his old Brooklyn Dodgers' cap.
The poet and fan of the '55 "Bums," Marianne Moore, would have approved greatly.
As a native Brooklynite, I found the geographical references from his old South Brooklyn neighborhood (especially around Carroll Gardens) and the dialogue to be of great appeal, and the Sicilian slang terms (that offended his sister in the novel but sprung from the mouth of his sainted immigrant mother) made me grin.
If you obtain this book, I hope you will enjoy it as much as I did.
I look forward to the next projected "Al and Mick Forte Story."
It would make a great Christmas gift or "stocking stuffers" for family or friends (like me) with Brooklyn roots.
Something better than pannatone. —By Long Island Giraldo
---
4 of 5 Stars Amazon Review: ENJOYABLE
This was a book of contrasts ably pointed out by one of the protagonists, Mick. Two boys from South Brooklyn grow up in different ways, one a student of the streets and one an academic student. The academic discovers that the halls of the courthouse are just as dangerous as the streets of South Brooklyn.
I enjoyed the contrast between the two cousins, Al and Mick. Al so concerned about procedure and Mick concerned about results. The two end up joining forces coming to the defense of a desperate mother.
Corruption abounds and these two teaming up may provide future books.
I enjoyed the book. —By William Bentrim
---
5 of 5 Stars Amazon Review: #METOO—A SUCCESS STORY
Occupational Hazard is entertaining as well as a success story for the #MeToo movement. In his first novel Alex Avitabile has highly developed characters working together on both sides of the law: the impersonal, statutory law of judges, juries and lawyers; and the law of the New York streets, a personalized law with a moral code.
Al, a by the books attorney, and Mick, a semi-reformed mobster team up to help a former colleague who has been drugged and raped. The culprit was a partner of a major New York law firm and is now a Deputy Mayor. Thus, the stage is set for a battle—David and Goliath, or Dr. Christine Blasey Ford versus Brett Kavanaugh, Donald Trump and the U. S. Senate. Unlike Ford, Mary, the rape victim has hard evidence of her rape.
If you are not familiar with street law, Occupational Hazard will serve as an introductory primer. Through well paced dialogue, the characters unfold with wit and wisdom from both sides of the law. Dialogue between Al and Mick is authentic, humorous and educational with insights into the workings of the law. It is reminiscent of conversations between Harry Bosch and Mickey Haller, characters in the works of Michael Connelly. Mr. Avitabile uses a few Italian phrases which could be translated to help the reader understand the meaning.
I am looking forward to the second Al & Mick book. I hope that the series will continue beyond the second book underway now to explore the gilded gentry gliding along New York streets today. —By Love to Read
---
4 of 5 Stars Amazon Review: A "STREET" DAVID AND GOLIATH STORY
A terrific fictional story with an authentic Italian base complete with actual ethnic dialogue throughout the narrative.
As a person who grew up in Brooklyn, I thoroughly enjoyed the story of the resourceful Mick and the sensitive Al.
Very much looking forward to the sequel. —By Peter E
---
5 of 5 Stars Amazon Review: LOTS OF FUN
A thoroughly enjoyable page turner! Occupational Hazard is fun and suspenseful with compelling characters. Alex Avitabile's homage to the streets of Brooklyn creates an exciting atmospheric novel.
I look forward to reading more from this author. —By Gb
---
5 of 5 Stars Amazon Review: THOROUGHLY ENJOYABLE READ
This is a great book and a thoroughly enjoyable read. Mick is an excellent foil to main character Al. I look forward to reading future adventures of this duo. I will also keep an eye out for other works by this author. —By Amazon Customer
---
"Occupational Hazard is a real page-turner. Suspenseful, engaging, with humor and morals. It is so imaginative! I can't wait for the next story." —Judi K, NYC
---
"This was a fun read. The author writes well with accents –not easy to do. It held my attention therefore I was able to read it in one day. I recommend this book. It is an easy read." —Nancy C, Boerum Hill Brooklyn
---
"Thoroughly enjoyable read. Great characters, fully fleshed. Loved the old-fashioned street code, resilience, and 'relationship management.' Italian slang titillating, particularly the words that do not Google translate, as one can just imagine." —Rylona W, Harlem
---
"Alex pulls the reader in with fully formed characters and a page turning story that set the stage for a dramatic and satisfying ending. Occupational Hazard is full of wit, suspense, dirty tricks and smart plot twists making it a great read!" —Bianca V, Seattle
---
"Alex's writing grabs you and doesn't let you go. Rigorous prose and great story-telling." —David B, NYC
---
Exciting gem of a book that will keep you on the edge of your seat from beginning to end!
"Love love love this book! I do not read very much BUT I could not stop once I picked up this book! I thoroughly enjoyed reading about the tales of Al and Mick Forte and the exciting cast of characters. The storyline has suspenseful twists and turns from beginning to end. Funny, exciting, authentic, imaginative, conniving are only a few words that describe Occupational Hazard and the brilliant mind of Alex. Looking forward to reading the next adventure of the Forte cousins." —J Brenneman (Amazon 5.0 out of 5 stars)