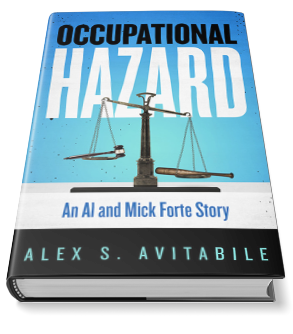 What readers are saying about Occupational Hazard
"Occupational Hazard is a must read. Alex has a great imagination. But if you really want to know what the mean streets of South Brooklyn were like back in the day, then read my book."
—Frank DiMatteo (mobcandymag.com), author of The President Street Boys: Growing Up Mafia (2016, Kensington Books)
Looking forward to the next book
I read this book over 3 days and really enjoyed it. It has a great plot and character development. I look forward to Alex's next book. —Kerry G, Esq., NYC
---
Great Fun
Occupational Hazard was great fun! It had very vivid characters and great plot twists, as well as  colorful language. — Marcia, NYC
---
Engaging Story
What an engaging story!  Unlike some books where you must slog through many chapters before feeling captivated by the story (if ever), this one immediately pulls you in.  Alex's writing is so descriptive, I felt transported to the scenes of the story, particularly as a New Yorker who recognized many of the locales.  I must say that I am very happy that Peg's character was somewhat redeemed by the end of the tale!  I look forward to the next book. — Margaret O'B, Westchester
---
Reminiscent of John Grisham
Occupational Hazard is a fun page-turner, reminiscent of John Grisham novels. It is humorous, suspenseful and it has a surprise ending. There's some legal language but not too much and the characters are a little pat: all capable, all good or all bad. But it's a novel.
— Ralph M., Baltimore
---
Book smart & street smart!
I kept this book to read over the Christmas holiday because I wanted to read it from cover to cover without breaks and it did not disappoint. There is a kind of Brooklyn cadence and vernacular unique to this writer that is refreshing in its directness. Whether you are interested in legal drama or simply looking to fall into an intriguing story, the pace of this novel is infectious and draws you into a particular world crafted with vivid characters and bold plot twists. If ever there was a time when we needed to be reminded of the value of working together to solve everyday problems it is now and Occupational Hazard poses a humble but time-tested fictional account of how intractable disputes can lead to surprising outcomes and forge unbreakable alliances. I look forward to reading the next Al and Mick Forte story…
– by ID372 (4 of 5 Stars Amazon Review)
---
Easy read
I don't read a lot of this genre but I thoroughly enjoyed reading about the Forte brothers. The combination of thoughtful intelligence and tough-exterior street-smarts made for a funny and endearing story that I couldn't put down. Love it when everyone gets what they deserve in the end. Can't wait for the next tale of Forte justice.
– by Joy Garvin (5 of 5 Stars Amazon Review)
---
Good vs. Evil in 1950s Brooklyn…and today

If you were born in Brooklyn, have visited Brooklyn, or love Brooklyn, this book is a thoroughly enjoyable read. From the unique version of English spoken by natives to a refresher course in Italian curse words, word lovers everywhere will delight in this story.
Alex Avitabile has created compelling characters that will hook your heart and your mind. From the single mother, drugged and impregnated by the boss from hell, to the humble attorney whose brother, Mick, is a street thug with a heart of gold, this story is a roller-coaster portrait of good vs. evil in the criminal justice system.
This first book in the "Al and Mick Forte" series will leave you sorry to have reached the last page and eagerly awaiting the next volume. I highly recommend it.
—by Michele Defilippo (5 of 5 Stars Amazon Review)
---
A THOROUGHLY ENJOYABLE BOOK
I loved the characters, the authentic dialogue, the suspenseful plot. It had a great story line and was a fun read.
—By Maureen Kurth (5 of 5 Stars Amazon Review)
---
Al, an attorney in Brooklyn, and his ex-mafioso cousin Mick cross swords with deputy mayor Gordon Gilbert when they represent Mary Woodley, who is suing Gilbert for child support. This is a fairly light-hearted mystery which pits two relatively unknowns against a powerful lawyer, now deputy mayor, in a domestic issue lawsuit.
How Al and Mick outwit Gilbert is the story in this easy-to-read and delightful mystery.
—Harvee (Review posted on Book Dilettante blogsite)
---
This is a fun read from a first-time author. The 'odd-couple' here might seem cliché, but the author does a great job of playing Mick and Al Forte off one another. This story is a touch short, but it's a good effort for a first book in what is intended to be a series.
I read the bio/other materials in this book and learned the author is a lawyer. Pretty cool. I would definitely be interested in reading more about these characters as the author writes more stories about them and fleshes them out.
– M.M. Strawberry (4.5 of 5 Stars Goodreads Review)
---
4 of 5 Stars Amazon Review: MEMORABLE CHARACTERS, FAST MOVING PLOT, REAL LIFE DRAMA
Alex brings to the pages all the elements of a good story, memorable characters, a fast-moving plot. Action, suspense, resolution keep the reader reading on into the night.
The realism of the behind the scenes corruption of within the Justice System is bold, eye-opening, and scandalous, and frightening. Alex's descriptions of locale, history of the period and social mindset of the day are accurate and convincingly presented.
"Occupational Hazard" is destined to make a fantastic impact, into the reality of injustice, and bias so prevalent in America today. —By Richard R. Blake
---
5 of 5 Stars Amazon Review: A FUN READ
Enjoyed learning about the South Brooklyn culture that shines loud and clear in this book. Character relationships are well developed quickly and with depth. An easy, page turning read. Hope there is more stories about Al and Mick Forte. —by ABR
---
5 of 5 Stars Amazon Review: AN ENTERTAINING FIRST NOVEL TO ADD TO MY SHELF OF BROOKLYN VOICES
It's been suggested that one out of seven Americans has roots in Brooklyn, one of the five boroughs of New York City.
As a native of "the Borough of Churches" who was born there in the second half of the twentieth century, I found Alex Avitabile's first novel to be an engaging entertainment.
In fact, I read it through in one sitting and it held my attention throughout.
Alex suggests that we shall hear more of the central characters, Al and Nick Forte, in the future.
Since most first novels are thinly-veiled biography, many elements of the author's childhood and teen years appear to pervade the text.
I enjoyed the author's photo at the end of the text, especially his old Brooklyn Dodgers' cap.
The poet and fan of the '55 "Bums," Marianne Moore, would have approved greatly.
As a native Brooklynite, I found the geographical references from his old South Brooklyn neighborhood (especially around Carroll Gardens) and the dialogue to be of great appeal, and the Sicilian slang terms (that offended his sister in the novel but sprung from the mouth of his sainted immigrant mother) made me grin.
If you obtain this book, I hope you will enjoy it as much as I did.
I look forward to the next projected "Al and Mick Forte Story."
It would make a great Christmas gift or "stocking stuffers" for family or friends (like me) with Brooklyn roots.
Something better than pannatone. —By Long Island Giraldo
---
4 of 5 Stars Amazon Review: ENJOYABLE
This was a book of contrasts ably pointed out by one of the protagonists, Mick. Two boys from South Brooklyn grow up in different ways, one a student of the streets and one an academic student. The academic discovers that the halls of the courthouse are just as dangerous as the streets of South Brooklyn.
I enjoyed the contrast between the two cousins, Al and Mick. Al so concerned about procedure and Mick concerned about results. The two end up joining forces coming to the defense of a desperate mother.
Corruption abounds and these two teaming up may provide future books.
I enjoyed the book. —By William Bentrim
---
5 of 5 Stars Amazon Review: #METOO—A SUCCESS STORY
Occupational Hazard is entertaining as well as a success story for the #MeToo movement. In his first novel Alex Avitabile has highly developed characters working together on both sides of the law: the impersonal, statutory law of judges, juries and lawyers; and the law of the New York streets, a personalized law with a moral code.
Al, a by the books attorney, and Mick, a semi-reformed mobster team up to help a former colleague who has been drugged and raped. The culprit was a partner of a major New York law firm and is now a Deputy Mayor. Thus, the stage is set for a battle—David and Goliath, or Dr. Christine Blasey Ford versus Brett Kavanaugh, Donald Trump and the U. S. Senate. Unlike Ford, Mary, the rape victim has hard evidence of her rape.
If you are not familiar with street law, Occupational Hazard will serve as an introductory primer. Through well paced dialogue, the characters unfold with wit and wisdom from both sides of the law. Dialogue between Al and Mick is authentic, humorous and educational with insights into the workings of the law. It is reminiscent of conversations between Harry Bosch and Mickey Haller, characters in the works of Michael Connelly. Mr. Avitabile uses a few Italian phrases which could be translated to help the reader understand the meaning.
I am looking forward to the second Al & Mick book. I hope that the series will continue beyond the second book underway now to explore the gilded gentry gliding along New York streets today. —By Love to Read
---
4 of 5 Stars Amazon Review: A "STREET" DAVID AND GOLIATH STORY
A terrific fictional story with an authentic Italian base complete with actual ethnic dialogue throughout the narrative.
As a person who grew up in Brooklyn, I thoroughly enjoyed the story of the resourceful Mick and the sensitive Al.
Very much looking forward to the sequel. —By Peter E
---
5 of 5 Stars Amazon Review: LOTS OF FUN
A thoroughly enjoyable page turner! Occupational Hazard is fun and suspenseful with compelling characters. Alex Avitabile's homage to the streets of Brooklyn creates an exciting atmospheric novel.
I look forward to reading more from this author. —By Gb
---
5 of 5 Stars Amazon Review: THOROUGHLY ENJOYABLE READ
This is a great book and a thoroughly enjoyable read. Mick is an excellent foil to main character Al. I look forward to reading future adventures of this duo. I will also keep an eye out for other works by this author. —By Amazon Customer
---
"Occupational Hazard is a real page-turner. Suspenseful, engaging, with humor and morals. It is so imaginative! I can't wait for the next story." —Judi K, NYC
---
"This was a fun read. The author writes well with accents –not easy to do. It held my attention therefore I was able to read it in one day. I recommend this book. It is an easy read." —Nancy C, Boerum Hill Brooklyn
---
"Thoroughly enjoyable read. Great characters, fully fleshed. Loved the old-fashioned street code, resilience, and 'relationship management.' Italian slang titillating, particularly the words that do not Google translate, as one can just imagine." —Rylona W, Harlem
---
"Alex pulls the reader in with fully formed characters and a page turning story that set the stage for a dramatic and satisfying ending. Occupational Hazard is full of wit, suspense, dirty tricks and smart plot twists making it a great read!" —Bianca V, Seattle
---
"Alex's writing grabs you and doesn't let you go. Rigorous prose and great story-telling." —David B, NYC